Anghiari is located on the site of a Roman settlement but became prominent in the 11 C because of its strategic position on the trade routes linking central Italy with the Adriatic. The earliest extant reference to the town by name is in a document dated 1048, still preserved in the archives at Città di Castello. At that time the town belonged to the Camaldolesi monks (Order of Romualdo). However, the most important period in the history of the town is associated with the Battle of Anghiari which was fought in 1440 between the Visconti armies from Milan and those of Florence which were allied with the Pope. Machiavelli spoke about the battle in his Historiae fiorentinae and Leonardo da Vinci executed a huge and short-lived fresco of it in Florence.
The powerful monastery of S. Bartolomeo, which was later transformed by the Perugians into a defensive structure, and the Chiesa della Badia were the first large mediaeval buildings in Anghiari. The surrounding 12 C and 13 C wall remains almost intact and the town can be entered through three gateways, Sant Angelo, San Martino and Fiorentina. The apse of the Chiesa di Sant'Agostino and the Bastione del Vicario are actually incorporated into the city wall.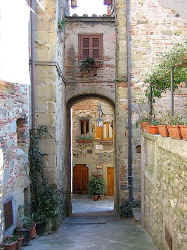 Passage in the historical town centre of Anghiari
The town centre was expanded in the 14 C when the Tarlati family commissioned the long road that leads to Sansepolcro and the loggia with fountains located below Piazza Baldaccio (formerly Piazza del Mercatale),. Piazza Mameli (formerly known as "L'antica piazza del Borghetto") in the heart of the town, is the home of the two main museums of Anghiari, Palazzo del Marzocco and Palazzo Taglieschi.

Outside the walls of the Anghiari, passing through the Galleria Girolamo Magi, there is a fine assembly of 18 C buildings around the Palazzo Corsi. These were commissioned by Benedetto Corsi between 1777 and 1794 and include the Palace itself, which today houses the Biblioteca and Archivio Comunale, the Cappella Votiva and the Theatre.