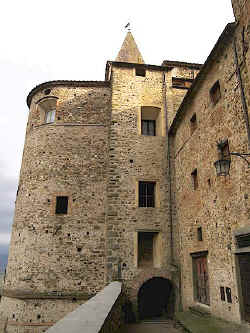 Montauto was already in existence during the period of the Etruscans (approximately 8th to 5th centuries BC ), who took advantage of the rich copper mines in its territory. It was a Roman and then Byzantine lookout tower and came under the control of the feudal Lord Goffredo, son on Ildebando, to whom Emperor Otto I conferred the property in the Upper Tiber Valley in 967 AD. The castle itself has its origins in 1170/80 which is the period in which the Lords of Montauto are first mentioned as the feudal rulers.

The castle was the strongest in the area, with three rings of defensive walls and a powerful keep. The importance of the castle was principally due to its position: at a height of over 700 m, it was, to all intents and purposes, impregnable (except to the craftiness of the Florentines - hah, come sono furbi, i fiorentini - anche oggi), with two sides sheer right down to the Sovara river, one protected by the rocks of the mountain and the front, facing the only route of access, heavily fortified and from which its domination of the surrounding territory was total.

It was also the place where St. Francis of Assisi liked to pause during his journeys to and from La Verna and, until 1503, the cassock that he had been wearing when he received the stigmata at La Verna was kept and treasured in the Chapel of Montauto. 1503 was, in fact, the year that the Florentines took the castle by trickery and all of its treasures were stolen.

The castle was eventually almost totally destroyed before being rebuilt in the Renaissance era, the most obvious sign of which is the beautiful corner tower with its steep, conical base facing the access route and attributed to the architect Francesco di Giorgio Martini.

The mullioned windows and finishing touches to the loggias were added soon afterwards when the castle became a family home.

Apart from the chapel mentioned above, Montauto also has a larger church with a lovely carved doorway and external fortifications. The castle and its surrounding estates are still owned by the Count Babolani di Montauto family.